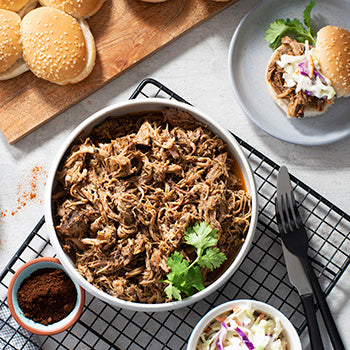 Prep Time: 10 minutes

Cook Time: 4 hours

Total Time: 4 hours 10 minutes (+ 15 minutes standing time)

Makes: 6 servings

Ingredients:

2 tbsp (30 mL) finely ground Melitta 100% Colombian Whole Beans

1 tbsp (15 mL) chili powder

1 tbsp (15 mL) brown sugar

1 tbsp (15 mL) each salt and pepper

1/2 tsp (2 mL) garlic powder

1/2 tsp (2 mL) cayenne pepper

1/2 tsp (2 mL) smoked paprika

1 boneless pork shoulder (about 3 lb/1.4 kg)

3/4 cup (175 mL) barbecue sauce

12 slider buns

Preparation:
Stir together ground coffee, chili powder, sugar, salt, pepper, garlic powder, cayenne and smoked paprika.
Rub the spice mix all over pork. Place pork in slow cooker; pour 1 cup (250 mL) water over top.
Cover and cook on Low for 8 to 10 hours or High for 4 to 6 hours or until pork is tender. Transfer pork to cutting board. Let stand for 15 minutes.
Shred pork using two forks. Return to slow cooker and toss with cooking liquid. Set on warm to serve.
Assemble pork and drizzle of barbecue sauce in buns.
Tips:
Add coleslaw or pickles to sliders if desired.
Alternatively, serve in regular-size buns or as a filling for tacos or burritos.