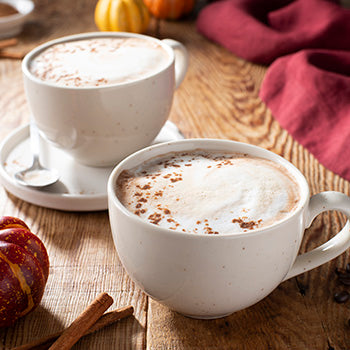 Prep Time: 5 minutes

Cook Time: 5 minutes

Total Time: 10 minutes

Makes: 2 servings

Ingredients:

1/3 cup (75 mL) finely ground Melitta 100% Colombian Whole Beans

3 tbsp (45 mL) brown sugar

2 tbsp (30 mL) cocoa powder

1 tsp (5 mL) pumpkin spice blend (approx.)

1 cup (250 mL) almond milk

Preparation:
Brew coffee in coffee machine with 2 cups (500 mL) water or prepare using the pour-over method. Stir in sugar, cocoa powder and pumpkin spice blend.
In a small saucepan set over medium-low heat, cook almond milk, stirring often, for 3 to 5 minutes or until starting to simmer. Using frother or hand blender, whisk until frothy.
Divide the coffee mixture between 2 mugs. Pour frothed almond milk over top. Sprinkle with a pinch of the pumpkin spice blend.
Tips:
Substitute coconut milk or cashew milk for almond milk if desired.
Alternatively, microwave almond milk in a microwave-safe measuring cup for 30 to 60 seconds or until starting to simmer.