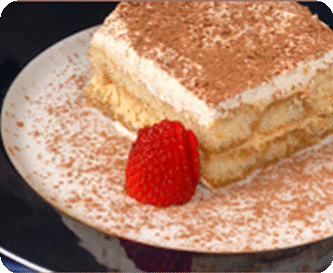 Serves: 6
Tiramisu is a popular dessert of Italian origin. It traditionally includes ladyfingers soaked in coffee, zabaglione cream, mascarpone cheese and bitter chocolate. This recipe includes all of the important elements, including Melitta French Vanilla coffee, for delicious results.
Preheat the oven to 300°F.
To make the custard, combine the egg yolks and sugar in a large bowl.
Beat with an electric mixer on high speed until the batter is thickened and pale yellow, 4 to 5 minutes.
Add the whipping cream and vanilla and beat just until mixed. Set aside.
Place 2 ladyfingers in the bottom of each of 6 buttered ramekins.
Brew an 5-ounce cup of Melitta French Vanilla coffee
Combine the sugar, water, liqueur and 2 tablespoons of the coffee in a measuring cup and mix well.
Pour the syrup evenly over the ladyfingers.
Divide and spoon the prepared custard evenly among the ramekins.
Place the ramekins in a 9-inch x 13-inch baking pan.
Place the pan with the ramekins on the center rack in the oven.
Pour very hot water into the baking pan, filling the pan to within 1/2-inch from the top of the ramekins.
Bake the tiramisu until each is set around the edges, but still slightly soft in the center, 40 to 50 minutes.
Remove the pan carefully from the oven and allow the tiramisu to stand in the water for about 2 hours, until the centers are set.
Remove the ramekins to a cooling rack.
When the tiramisu is cooled, spread the mascarpone cheese over each and dust with the cocoa powder.
Ingredients:
12 ladyfingers
Custard:
8 large egg yolks
¼ cup sugar
2 cups heavy whipping cream
2 ½ teaspoons pure vanilla extract
Syrup:
5 oz of Melitta French Vanilla coffee
¼ cup sugar
2 tablespoons water
1 teaspoon crème de cacao liqueur

Toppings:
1 cup mascarpone cheese, softened
1 tablespoon unsweetened cocoa powder