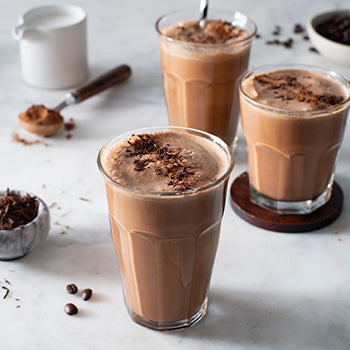 Prep Time: 10 minutes

Total Time: 10 minutes

Makes: 2 servings

Ingredients:

1/4 cup (60 mL) finely ground Melitta Dark Roast Whole Beans

1/4 cup (60 mL) unsalted butter, at room temperature (preferably grass-fed)

1/4 cup (60 mL) coconut milk, heated

2 tbsp (30 mL) MCT oil

2 tbsp (30 mL) cocoa powder

2 tbsp (30 mL) keto-friendly sweetener

1/4 tsp (1 mL) vanilla extract

2 tbsp (30 mL) shaved dark chocolate

Pinch cinnamon

Preparation:
Brew coffee in coffee machine with 2 cups (500 mL) water or prepare using pour-over method.
In blender, mix together brewed coffee, butter, coconut milk, MCT oil, cocoa powder, sweetener and vanilla until smooth, frothy and thickened.
Divide between 2 mugs. Sprinkle with shaved chocolate and cinnamon.
Tip: Substitute coconut oil for MCT oil if desired.