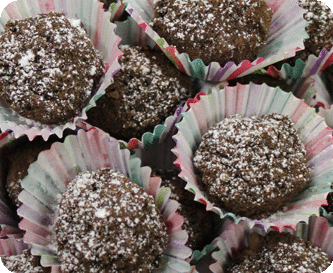 Makes approximately 50 truffles.
Thoroughly cream butter and sugar and add melted chocolate.
Add coffee and rum and mix well.
Chill for 3 to 4 hours, until mixture is firm enough to handle.
Drop mixture by small teaspoonfuls into crumbs and form into balls.
Roll each in crumbs until well coated.
Chill for at least 2 hours before serving. Store in refrigerator, tightly covered.
Ingredients:
2/3 cup butter
2 cups sifted confectioners sugar
6 squares semi-sweet chocolate, melted and cooled
3 tablespoons strong brewed Melitta Classic Blend coffee
1 teaspoon rum
1 ¼ cup chocolate wafer crumbs